Professional Programs
APPLYING THE INTERNATIONAL STANDARD FOR INTERIM MEASURES IN INTERNATIONAL ARBITRATION AND IN EMERGENCY ARBITRATION

Long gone are the days when parties had to go to court to obtain interim measures relevant to an upcoming or ongoing international arbitrations. The rules of all major arbitration institutions now allow parties to request emergency arbitrations before their arbitration tribunals are constituted and interim measures from those tribunals once they are constituted.  The debate is no longer whether arbitrators can grant emergency relief, but rather what is the proper standard that applicants must meet to obtain that relief. The rules of the major arbitral institutions are silent on this crucial point. Some practitioners may be tempted to apply the standard for interim measures established by local law. International arbitrators tend to prefer to apply an international standard. That international standard is codified by the UNCITRAL Model Law on International Commercial Arbitration ("Model Law")..
This presentation will focus on when the Model Law standard for interim measures and emergency arbitrations can be applied, its elements, and how each element should be applied. You will hear from CIArb Fellow Jose F. Sanchez, an arbitrator and counsel with Vinson & Elkins LLP in New York, whose article, "Applying the Model Law's Standard for Interim Measures in International Arbitration," will be published by the Journal of International Arbitration in February 2020.  Mr. Sanchez will address how to correctly apply the international standard for interim measures and emergency arbitrations by providing an overview of precedents and authority from around the world on, and the legislative history of, each element of the standard. There will be time for discussion, for example, as to the potential difference in practice between requiring a showing of a "reasonable possibility" of success and "likelihood" of success on the merits. The discussion will be led by Rainbow Willard, Counsel in the International Arbitration practice at Chaffetz Lindsey LLP. Members and guests in attendance will receive a multi-page cheat sheet designed to help an arbitrator determine how to apply each element of the international standard.
Application for New York accreditation of this program is pending.
Do you have any burning questions? We have a draft agenda, but we would be happy to address your questions, so please e-mail us at programs@ciarbny.org if there are particular issues you would like us to cover.
This program is FREE for members of the CIArb New York Branch and $50 for non-members.
Program details are as follows: Applying the international standard for interim measures in international arbitrations and in emergency arbitrations
When:  March 25, 2020 from 12:30-2:30 p.m.
Lunch: 12:30
Program: 1:00-2:30
Where:  Vinson & Elkins LLP
The Grace Building
1114 Avenue of the Americas, 32nd Floor
New York, NY 10036-7708
Space is limited; registration is first-come, first-served.
Free for CIArb New York Branch Members; $50 for others
REGISTRATION OPTIONS
Become a Member: [click here]
---
Comprehensive Course and Accelerated Route
Download Brochure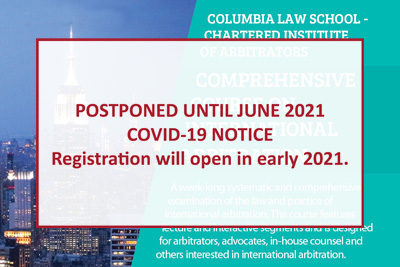 POSTPONED UNTIL JUNE 2021
COVID-19 NOTICE
Registration will open in early 2021.
Location: HOGAN LOVELLS 390 Madison Ave, New York, NY 10017
Columbia Law School – Chartered Institute of Arbitrators Comprehensive Course on International Arbitration
A week-long systematic and comprehensive examination of the law and practice of international arbitration.
The course features both lecture and interactive segments and is designed for arbitrators, advocates, in-house counsel and others interested in international arbitration.
Upon completion, all attendees will receive a certificate of completion from Columbia Law School and the Chartered Institute.
Comprehensive Course Registration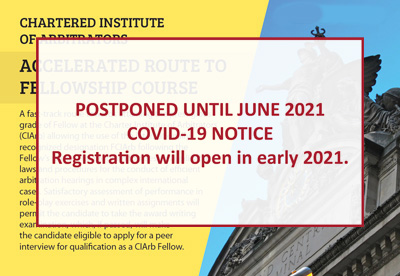 POSTPONED UNTIL JUNE 2021
COVID-19 NOTICE
Registration will open in early 2021.

Location: American Arbitration Association, 150 East 42nd Street, New York, NY
Chartered Institute of Arbitrators Accelerated Route to Fellowship Course
The three-day Accelerated Route to Fellowship (ARF) program is designed for experienced practitioners in the field of international arbitration to attain the prestigious grade of Fellow at the Chartered Institute of Arbitrators (CIArb) and allows the use of the designation FCIArb following the Fellow's name.
The program focuses on applicable laws and procedures for the conduct of efficient arbitration hearings in complex international cases. Satisfactory assessment of performance in role play exercises and written assignments will permit the candidate to take the award writing test on the third day of the program, which, if passed, will make the candidate eligible to apply for a peer interview for qualification as a CIArb Fellow
As a prerequisite to course registration, most candidates are required to pass a 90-minute online multiple-choice assessment of contract and tort law.
ARF Course Registration