Professional Programs

Force Majeure in New York Law: A Guide for
International Commercial Arbitrators
May 27, 2020 5:00pm – 6:00 p.m. ET
The full extent of COVID-19's impact remains to be determined but no doubt will include the ability of commercial parties to perform their obligations in the manner set forth in their contracts.
Substantive bodies of law differ on the question whether, and under what circumstances contract performance may be excused or contract obligations adapted to changed circumstances. Commercial agreements governed by New York substantive law tend to deal with this question in force majeure clauses. In some industries, these clauses are negotiated with great care; in others, lawyers copy a clause from one agreement to the next and the contracting parties give it little, if any attention. When an unexpected occurrence beyond the control of the parties materially changes the economics of the bargain, the resolution of disputes may turn as much on the language of the force majeure clause as on the facts that give rise to the defense.
Our guide through a discussion of the New York law of force majeure will be Ethan J. Leib, John D Calamari Distinguished Professor of Law at Fordham Law School. Professor Leib has been teaching contract law for 15 years and regularly serves as an expert on New York contract law, as amicus curiae to the New York Court of Appeals and in foreign litigation and international arbitration. See bio
A comparative law perspective will be provided by Alejandro Garro, Adjunct Professor of Law and Senior Research Scholar of the Parker School of Foreign and Comparative Law of Columbia University. Professor Garro served as a member of the Working Group for the UNIDROIT Principles of International Commercial Contracts and currently serves as a member of the Argentine delegation to UNCITRAL. See bio
The discussion will be led by Jennifer Kirby, FCIArb, As Principal of the arbitration boutique Kirby and an internationally recognized arbitration practitioner based in Paris and New York, Ms. Kirby acts as counsel and sits as arbitrator in a wide variety of commercial arbitrations around the world. See bio
Download PDF
REGISTRATION OPTIONS
Registration: [click here]
Become a Member: [click here]
---
Comprehensive Course and Accelerated Route
Download Brochure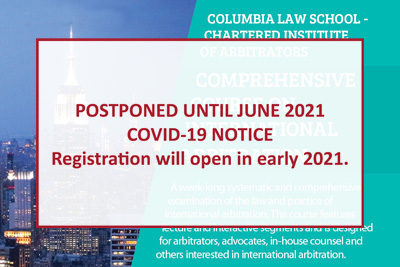 POSTPONED UNTIL JUNE 2021
COVID-19 NOTICE
Registration will open in early 2021.
Location: HOGAN LOVELLS 390 Madison Ave, New York, NY 10017
Columbia Law School – Chartered Institute of Arbitrators Comprehensive Course on International Arbitration
A week-long systematic and comprehensive examination of the law and practice of international arbitration.
The course features both lecture and interactive segments and is designed for arbitrators, advocates, in-house counsel and others interested in international arbitration.
Upon completion, all attendees will receive a certificate of completion from Columbia Law School and the Chartered Institute.
Comprehensive Course Registration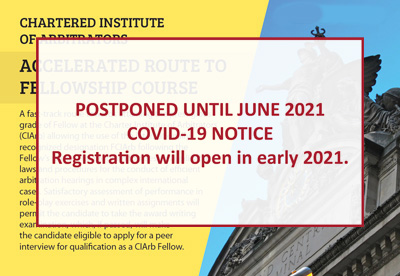 POSTPONED UNTIL JUNE 2021
COVID-19 NOTICE
Registration will open in early 2021.

Location: American Arbitration Association, 150 East 42nd Street, New York, NY
Chartered Institute of Arbitrators Accelerated Route to Fellowship Course
The three-day Accelerated Route to Fellowship (ARF) program is designed for experienced practitioners in the field of international arbitration to attain the prestigious grade of Fellow at the Chartered Institute of Arbitrators (CIArb) and allows the use of the designation FCIArb following the Fellow's name.
The program focuses on applicable laws and procedures for the conduct of efficient arbitration hearings in complex international cases. Satisfactory assessment of performance in role play exercises and written assignments will permit the candidate to take the award writing test on the third day of the program, which, if passed, will make the candidate eligible to apply for a peer interview for qualification as a CIArb Fellow
As a prerequisite to course registration, most candidates are required to pass a 90-minute online multiple-choice assessment of contract and tort law.
ARF Course Registration