2021
New York Arbitration Week 2021:
The Biggest NYAW Yet!
NYAW 2021 by the numbers:
1,144 attendees from around the world
91 speakers from 6 continents
22 events over 5 days
21 participating organizations, and
38 financial and media sponsors
Chairs Matthew Draper FCIArb and Lea Haber Kuck commented, "These impressive numbers reflect the vibrancy of theNew York arbitration community and its ability to offer programs of the highest quality, and confirm that NYAW is firmly established as a must-attend event on the calendar of the international arbitration world."
This year's events can be found 
here
, with links to a video recording of the presentations.  Topics included, among others, 
res judicata
 in arbitration, arbitration's competition from international courts, tips for award writing, enforcement of awards in the Americas, arbitrator selection, the Mixed Mode Task Force, and 
jura novit curia
.
Founders NYIAC and CIArbNY presented a pair of 
panel discussions
 by leading international arbitration practitioners on improving the quality of the arbitral process and the role of the 
functus officio
 doctrine in correcting awards.  Speakers included Professor Gabrielle Kaufmann-Kohler, Adriana Braghetta, Dyalá Jiménez Figueres, Joseph E. Neuhaus, FCIArb; Elliot E. Polebaum, Richard F. Ziegler, FCIArb, Martin F. Gusy, Eduardo Silva Romero, Professor Janet Walker, C.Arb, FCIArb, and Professor Anne Marie Whitesell.
Every program was free of charge and most events offered CLE credit.
Many thanks to the participating organizations:
American Arbitration Association/ International Centre for Dispute Resolution
American Society of International Law
Arbitral Women
David D. Caron Praelium
Fordham University International Arbitration and Mediation Conference
ICC International Court of Arbitration
International Institute for Conflict Prevention and Resolution (CPR)
JAMS
New York City Bar Association
Silicon Valley Arbitration and Mediation Center
Singapore International Arbitration Centre
Young International Arbitration Practitioners of New York
Three in-person social events and six virtual social events provided dynamic and interactive networking opportunities.  The in-person events were oversubscribed and enthusiastically attended.  Viewing parties for the substantive events were held in Bogota and Mexico City.
In addition to Chairs Matthew Draper FCIArb and Lea Haber Kuck, this year's organizing committee included Chiann Bao FCIArb, Stephanie Cohen FCIArb, Michael Fernandez, FCIArb, Katie Gonzales, Louis B. Kimmelman, FCIArb, Dana C. MacGrath, Rekha Rangachari, Jeffrey A. Rosenthal, Daniel Schimmel, FCIArb, Steven Skulnik, FCIArb, Eduardo Zuleta, assisted by secretaries Alexander Haden and Jesse Peters of Skadden Arps Slate Meagher and Flom LLP.
Thank you to everyone who organized, sponsored, presented at, and attended New York Arbitration Week.
Mark your calendars for the Fourth Annual New York Arbitration Week: November 14-18, 2022!
---
2020
NEW YORK INTERNATIONAL ARBITRATION CENTER AND CIARB NY BRANCH ANNOUNCE
VIRTUAL NEW YORK ARBITRATION WEEK: NOVEMBER 16-20, 2020

The New York International Arbitration Center (NYIAC) and the New York Branch of the Chartered Institute of Arbitrators (CIArbNY) are pleased to continue their joint leadership of New York Arbitration Week (NYAW) for the second year. This year, the event will take place from November 16-20, 2020 and will be virtual. The variety of programming offered throughout the week will showcase New York as a leading global seat for international arbitration and center for thought leadership, and will be presented in a format designed to take advantage of being online.
New York Arbitration Week 2020 will include a deep dive into issues of non-signatories in arbitration hosted by CIArbNY and NYIAC and programs by leading international arbitral institutions, including a feature program of the International Court of Arbitration of the International Chamber of Commerce and programs by the American Arbitration Association/ International Centre for Dispute Resolution, the International Institute for Conflict Prevention & Resolution (CPR) and JAMS. Dynamic and interactive networking opportunities and discussion groups are also planned, with several shepherded by ArbitralWomen and the Young International Arbitration Practitioners of New York that will be scheduled during multiple time slots to maximize the inclusion of a truly global delegation. The capstone of New York Arbitration Week will be the Fordham Conference on International Arbitration and Mediation, with keynote speaker Professor George A. Bermann, Gelhorn Professor of Law and Monnet Professor in European Law at Columbia Law School and CIArbNY Branch Patron. The Fordham Conference will also have a panel that looks at the different perspectives on the law that governs the arbitration clause and how that has impacted recent judicial decisions around the world. It is anticipated that all virtual programming during NYAW will offer CLE credit and be free of charge, with donations to justice organizations encouraged in lieu of registration fees and hosting services provided by FTI Consulting. More program information and registration links will be posted, as they become available, on the NYAW website, available here.
NYAW 2020 Co-Chairs Stephanie Cohen and Jeffrey A. Rosenthal note that virtual programming presents unique opportunities to connect New York thought leaders in international arbitration with a global audience. They state: "We look forward to engaging arbitration users and colleagues, both new and familiar, with topical and thought-provoking content. We are also cognizant that NYAW will take place at a time of incalculable loss and turmoil for the greater New York community and that NYAW presents an opportunity for the international arbitration community to give back and share its good fortune with others. Participants in NYAW programs will be invited to consider making a voluntary charitable contribution to the City Bar Justice Center, which increases access to justice for low-income and disadvantaged New Yorkers, the NAACP Legal Defense & Education Fund, Inc., which fights for racial justice in America, or to another charity of their choice." Check back soon for donation links.
---
2019
New York Branch Organizes Inaugural New York Arbitration Week With Great Success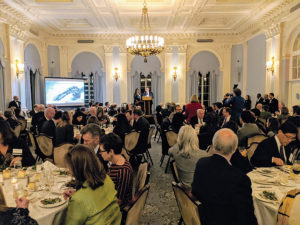 The first New York Arbitration Week (NYAW) took place at multiple venues in Midtown Manhattan from November 19-22, 2019 and, by all measures, was a great success.
Orchestrated by a committee of directors and officers representing the CIArb NY Branch and the New York International Arbitration Center (NYIAC),* NYAW succeeded in bringing together leading practitioners and academics from the global and local arbitration community, the support of law schools based in New York and Washington D.C., all the major institutional arbitration providers with global or regional headquarters in New York, and a number of young practitioner groups.  The substantive programming and social events all took place at full capacity.
NYAW ki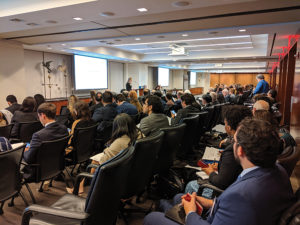 cked-off on Tuesday evening, November 19th, with a cocktail reception that filled the lobby of the Lipstick Building to capacity and set a high energy level for the week.
Wednesday's programming opened at NYIAC's international hearing facility with Young IA Practitioners Diversity Challenge: Reinventing the Landscape for Young IA Practitioners, a thought-provoking panel discussion on strategies for advancing diversity, coordinated by young arbitration groups including CIArb YMG, AAA-ICDR Young & International, Young ArbitralWomen Practitioners, CPR Institute Young ADR, ICC Court of Arbitration Young Arbitrators Forum, Silicon Valley Arbitration and Mediation Center Young Professionals, and the ADR Inclusion Network. Dana MacGrath, President of ArbitralWomen, described the diversity program as "a clear indication of the depth of talent, commitment, energy and optimism of the YMG generation in our field."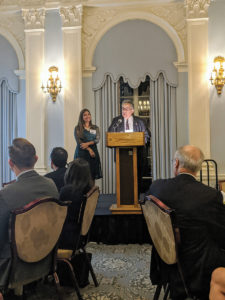 M&A and Complex Financial Dispute Arbitration, a JAMS program moderated by Robert Davidson, FCIArb (JAMS) and featuring Julie Bedard (Skadden), Frances Bivens, Mark Hickey (Zurich NA), Sharad J. Khemani (Stryker) and Allyson Rothberg (JP Morgan Chase), followed the YMG program. 
In the afternoon of Wednesday, November 20th,  CIArb NY Branch presented a highly anticipated program on the newly-approved American Law Institute (ALI) Restatement of the US Law of International Commercial and Investor-State Arbitration, the product of a 12-year project led by the Restatement's Reporter (and New York Branch Patron), Professor George A. Bermann of Columbia Law School, FCIArb. Highlighting "hot topics" covered by the Restatement, which distills the U.S. law of international commercial and investor-state arbitration into principles and makes some recommendations for future development of the common law, the  program featured the Restatement's Associate Reporters, Professors Jack J. Coe, Christopher R. Drahozal, Catherine Rogers and Linda Silberman, and Advisors Kimmelman, Professor Andrea K. Bjorklund (McGill Faculty of Law), Donald Francis Donovan (Debevoise & Plimpton), Jennifer Kirby (Kirby), Carolyn Lamm (White & Case), and California-based federal appeals court Judge M. Margaret McKeown. Sidley hosted the program at its offices on Seventh Avenue. Mattiaccio suggested that "the broad consensus at the program seemed to be that the Restatement, and to some degree this introductory program presented by leaders of the Restatement project, will help to add focus and context to the future development of U.S. law in the field."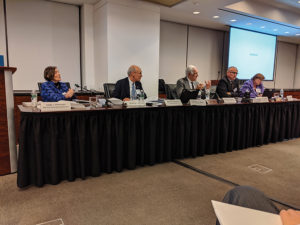 The Restatement program was followed by cocktails and dinner attended by over 150 guests in the Grand Ballroom of the Yale Club of New York. Mattiaccio and Rangachari opened the dinner with an acknowledgment, on behalf of the Organizing Committee, of the substantive contributions of the arbitral institutions, law schools and YMG groups, as well as the media support of GAR, Practical Law-Thomson Reuters, TDR, and membership associations including the Chartered Institute, ArbitralWomen, the International Arbitration Club of New York and the New York City and New York State Bar Associations. The committee also thanked the numerous law firms and consulting firms whose support as financial sponsors allowed the organizers to offer breakfasts, lunches and the opening reception free of charge. 
Day Two of NYAW opened at NYIAC on Thursday morning with a breakfast program presented by the CPR Institute on expedited arbitration, mediation, and New York as an arbitral venue. Helena Tavares Erickson (CPR Institute) led a panel consisting of George Gallopoulos (General Dynamics), Natalie Reid (Debevoise & Plimpton), Mônica Mendonça Costa (Tozzini Freire), and Deborah Hylton, FCIArb.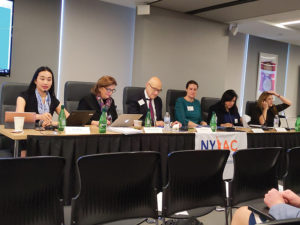 The proceedings continued at NYIAC with the launch of the ICCA-NYC Bar-CPR Protocol on Cybersecurity in International Arbitration (2020) by Working Group members Stephanie Cohen, FCIArb, Mark Morril, FCIArb, Lea Haber Kuck (Skadden), Micaela McMurrough (Covington) and Kathleen Paisley (Ambos Law). Rangachari remarked, "given the leadership roles of the New York City Bar and CPR Institute in the development of the Protocol, it is fitting that the first launch be here in New York during New York Arbitration Week."
After a networking lunch, Thursday's programming continued with two panels presented by AAA-ICDR: (i) The In-House Counsel's Roundtable – Discussion on their Approach to an International Arbitration, moderated by Eric Tuchmann (AAA-ICDR) and featuring Mary L. Barkus (Hughes Hubbard/formerly of Merck & Co.), William H. Crosby, Jr. (IPG), and Charles N. Juliana (Integrated Project Services LLC); and (ii) Focus on Asia – The ICDR's Perspective, moderated by John J. Kerr, Jr. (AAA Council) and featuring Patrick M. Norton (Arbitration Chambers), Dennis Unkovic (Meyer Unkovic), and June Yeum (Pillsbury Winthrop). The half-day program was followed by a well-attended reception.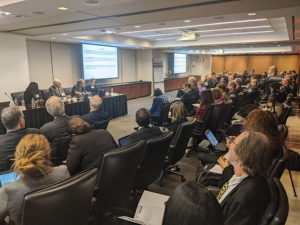 Fordham Law School provided its Lincoln Center venue for the NYAW programs and reception on Day Three, Friday, November 22, 2019. The day commenced with an ICC International Court of Arbitration Breakfast Program on Emergency Arbitration featuring Alexander G. Fessas (ICC Court of Arbitration), Stephanie Cohen, FCIArb and James Hosking (Chaffetz Lindsey), who provided insight on procedural and substantive "lessons learned" from the ICC's Task Force Report studying the first 80 emergency arbitrator cases before the ICC.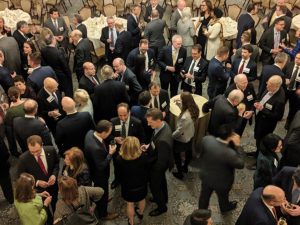 The ICC breakfast program was followed by the annual Fordham International Arbitration and Mediation Conference co-chaired by Kimmelman and Sussman. The all-day program included panels on (i) Contract Interpretation in International Arbitration moderated by Laurence Shore (Bonelli Erede) and featuring Nicholas Fletcher QC, Hon. Faith S. Hochberg, Melissa Magliana (Lalive), and Athena Fouchard Papaefstratiou (Eversheds Southerland); (ii) ICSID under the New Rules moderated by Donald Donovan and featuring Meg Kinnear (ICSID); (iii) Hot Tubbing Experts moderated by Thomas D. Halket, FCIArb C Arb, and featuring Carla Chavich (Compass Lexecon), Jennifer Glasser (White & Case), Julian D M Lew, QC; Timothy G. Nelson (Skadden); Greig Taylor (AlixPartners); (iv) What are Global Arbitral Institutions Focusing on Today?, moderated by Kimmelman and Professor Anne Marie Whitesell (Georgetown Law School) and featuring Alexander G. Fessas (ICC), Kevin Nash (SIAC), Eric P. Tuchmann (AAA-ICDR), and Jacomijn van Haersolte-von Hof (LCIA).  Julian D M Lew, QC delivered the keynote address at lunchtime.  The Fordham Conference ended with a reception that marked the conclusion of NY Arbitration Week. Halket noted that "the Fordham Conference, which is always a contributor to thought leadership, is now also a pillar of New York Arbitration Week."
The next New York Arbitration Week is already being planned for November 17-20, 2020 and promises to become a regular New York event the week before U.S. Thanksgiving.
---
*The Organizing Committee co-chairs were Davis Polk partner/NYIAC director Frances E. Bivens and CIArb NY Branch chair Richard L. Mattiaccio.  NYIAC leadership on the Organizing Committee included NYIAC Chair, Edna Sussman, NYIAC Executive Director Rekha Rangachari, and Sidley partner/NYIAC director Louis B. (Benno) Kimmelman, FCIArb.  CIArb NY Branch leadership on the Organizing Committee included Thomas Halket FCIArb C Arb and CIArb NY Branch Programs Committee chair Steven Skulnik.  Kimmelman and Sussman also served as co-chairs of the annual Fordham Conference held on the final day of New York Arbitration Week.