CIArb NY Writing Competition Winners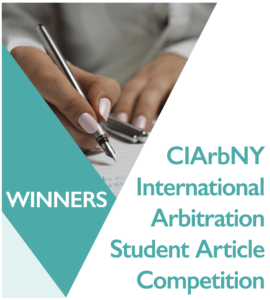 The CIArb NY Branch is pleased to announce that Fabio Nunez del Prado and April Lacson are the first and second place prize winners, respectively, of the Chartered Institute of Arbitrators New York Branch 2018/19 International Arbitration Student Article Competition. 
This marks the first time that the CIArb NY Branch has held a student writing competition with the goal of establishing it as an annual Spring semester event open to full-time students at law schools located in the CIArb NY Branch territory consisting of the States of New York, New Jersey and Connecticut. 
The winners were selected by a distinguished panel of judges comprised of Paul D. Friedland of White & Case LLP, Jean E. Kalicki of Kalicki Arbitration, and Nancy M. Thevenin of Thevenin Arbitration & ADR, each of whom is a Fellow of the Chartered Institute and a member of the CIArb NY Branch.
First place, which includes a cash prize of $5000, is being awarded to Mr. Nunez del Prado, an LLM student at Yale University (Class of 2019), for his article, "Hatches and Tantrums: The Behavioral and Political Foundation of Setting Aside in International Arbitration."  The judges found that Mr. Nunez del Prado's article offers an "original, fun, and daring cross-disciplinary approach" to addressing the "paradox" of award set asides, and commend his piece as a "terrific essay starting with its title and extending to its tone and substance." 
Second place, which includes a cash prize of $3000, is being awarded to Ms. April Lacson, an LLM Student at New York University School of Law (Class of 2019), for her article, "Final and Binding: Towards a Transnational Theory of Issue Preclusion for International Arbitral Awards."  According to the judges, Ms. Lacson submitted a "well-researched essay" which "courageously propos[ed] the creation of transnational autonomous rules for issue preclusion of international awards."
The winning articles will be considered for inclusion in a forthcoming Chartered Institute publication.
The CIArb NY Branch thanks all students who submitted articles and the competition judges for the generous contribution of their valuable time.
Richard L. Mattiaccio, FCIArb C Arb, NY Branch Chair
Stephanie Cohen, FCIArb, NY Branch Vice Chair
The Competition Committee
March 28, 2019